Английский
C1/C2 — Advanced / Fluent
C1/C2 — Advanced / Fluent
Exness is hiring remote specialists who have already relocated from Russia or willing to do it in up to 6 months.
With over 1,500 employees of more than 88 nationalities, Exness is the place for global teamwork, incredible leadership, a learning culture, and constant development. Unlimited by time zones, Exnessians from around the world have worked seamlessly together since 2008 to provide our traders with the best possible trading experience. Today, we stand proud with over 300,000 active traders and 2.5 trillion USD in monthly trading volume.
Your role at Exness
We are looking for an Enterprise Architect to join Exness Technology Department. The role will be focused on creating and optimizing enterprise architecture on company-wide scale, establishing architecture principles and processes, engage in architecture governance. At the same time, you should be able to dig into details of technical implementation when necessary.
You will
Design and define the TO-BE architecture based on the company's strategic goals, available resources, and identify gaps in the current IT structure.
Define how the system looks in the context of the business area and coordinate it with the global architecture of the entire company.
Actively participate in the process of creating business requirements with stakeholders, align requirements with company strategy, and help divide projects into implementation stages.
Actively participate in managing technology stack of the whole company and be responsible for technology life-cycle management.
Together with solution architects define principles and guidelines for Solution Architecture.
Review solution architects' work to control the consistency of these solutions with global enterprise architecture.
Uncover and describe architectural problems in terms of technical debt, generate proposals for improvement, and consider existing risks and development prospects.
Participate in establishing the architecture management methodology throughout the company.
The ideal candidate
Higher technical education.
Experience in Commercial Software Development, at least 5 years (no more than 5 years ago).
Experience working in similar positions, at least 2 years.
Experience working with relevant technology stack: Python / Go, PostgreSQL, Redis, Kafka, REST, GRPC, k8s, Data Mesh, React for web, Swift and Kotlin for mobile.
A modern view on architecture and technology: microservices, event driven approach, agile software development, DevOps practices, SRE.
Basic knowledge of information / cybersecurity.
Knowledge of wide-spread architecture frameworks.
Level of knowledge of English and Russian languages — C1 (Advanced).
What we offer
A reasonably estimated and attractive package (competitive salary based on your expectations and internal benchmark) with the ability to start working remotely anywhere in the world.
Company Car — the company will provide Exness-branded cars to those who relocated, parking near the office or a bus tickets.
We'll pay school or kindergarten fees (Annual Registration or Tuition Fees, Regular term fees, Half day service to kindergartens) for your children between 0 years - 18 years, up to three (3) children.
L&D — support your need to replenish your knowledge and acquire new skills to do your job better via Continuous product education, Professional training & Certifications, Soft skill training, Language classes, and our very own Exness library.
Sports Benefits — Our own Sports Club with dedicated coaches doing group and individual training, on-site and online, sharing healthy recipes and life hacks + Free Sanctum Club Membership for you and your spouse. Jet Skis (if you have a speed boat operator license).
Medical — Besides having a Corporate Doctor, we cooperate with one of the biggest international insurance companies to provide medical insurance for you and your families. Coverage is provided for you, your spouse, and your children up to 18 years old. It includes Inpatient, Outpatient, and international support.
Candidate journey
Intro call (up to 45 minutes) → Technical interview (1-1.5 hours) → Test task → Final Interview (1 hour).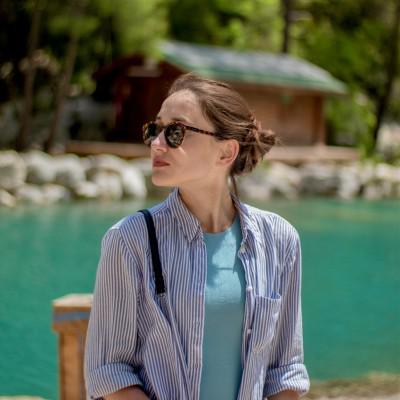 Ирина Калабухова
Talent Acquisition Specialist